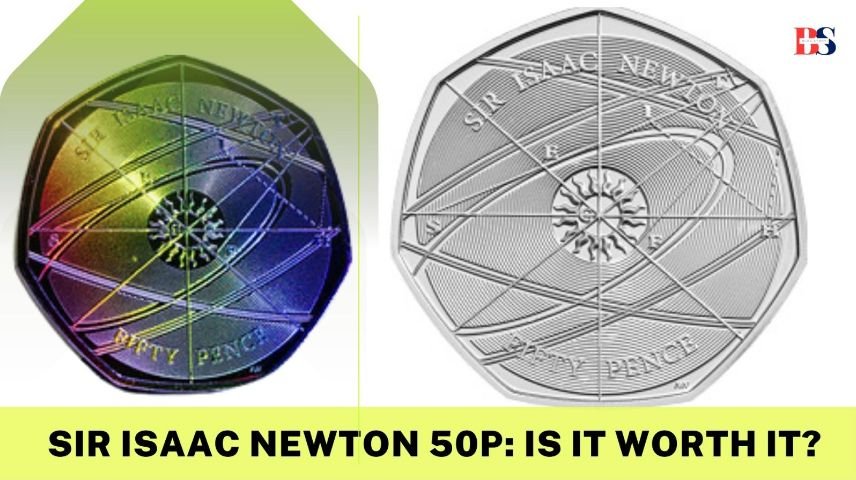 5 mins read
Sir Isaac Newton 50p: Is It Worth It?
Science lovers and coin collectors can now unite thanks to the Sir Isaac Newton 50p coin.
The 50 Pence Sir Issac Newton coins were first issued in 2017 to mark the 375th Anniversary of the scientist's birth.
But other versions came out in 2018.
The authority to mint was transferred to the public.
The only catch was that this coin was only available at The Royal Mint Experience where you could strike your own.
But that is in Llantrisant, Wales – a long journey for most of the people of the country.
Again, those who did not want to travel far for the Sir Isaac Newton 50p coin could buy versions from eBay.
The coins now pass as legal tender and with all the transfers, they might pop up in your pocket change as well.
Let's take a look at what makes the Sir Isaac Newton 50p coins so rare and if they are valuable or not.
How Rare is The Sir Issac Newton 50p Coin?
There were a total of 1,801,500 2017 Sir Isaac Newton 50p coins minted which gives it a score of 37 on the Change Checker's scarcity index update.
This put it in 23rd place.
The scarcity index ranks each coin between 1-100 based on its rarity.
The rarity of a coin increases as its number goes up.
So, it will make the coin more valuable.
Both 2017 and 2018 coins are rare.
In some cases, you may only see them in the museum.
The 2018 Sir Isaac Newton 50p release date was not released into circulation by The Royal Mint. So, it is highly unlikely that you will find them in your change purse.
Change Checker predicted that at this moment the limited version could be less than 210,000 which is less than the rarest 50p available right now.
So, we don't know how many are in the pockets of avid coin collectors throughout the country.
You Might Like Also: How Much is a Shilling Worth Today in The UK?
How Many Isaac Newton 50p Coins Were Released?
There are two Isaac Newton 50p release dates – one in 2017 and the other in 2018.
When originally released only 375 Isaac Newton 50p coins were issued from the Woolsthorpe Manor in Lincolnshire – the birthplace of Sir Isaac Newton.
The coin sparked great interest and was in high demand by coin collectors and science fans alike.
Soon, the coin mintage increased, and the 2017 edition was confirmed at over 1.8 million.
This is a very low mintage – only second to the 210,000 of the Kew Gardens 50p coins.
Discover More: Paddington Bear 50p Coins: A Numismatic Tale of Literary Enchantment
How Much Are The Sir Isaac Newton 50p Coins Worth?
The 2018 version of the Sir Issac Newton 50p coins copies is mostly sold online as the real versions were not released into circulation.
According to the Change Checker, the coins could be worth £46 in the latest eBay Tracker index.
In the other online auction platforms, copies have sold for as much as £43 – which is over 86 times the face value of the regular 50p coin.
One seller claims to have copies of both 2017 and 2018 and sold them both for £36.
May You Like Also: Top 10 Most Valuable and Rare £2 Coins in The UK
How Do The Other Coins Match up With The Sir Isaac Newton 50p Coin?
You might have an easier time finding a rare coin or come across it in your change purse.
But this commemorative coin is worth a good amount.
If they have low mintage or were not put into circulation then their value increases.
One of the best examples is the popular Kew Gardens 50p coins.
They are considered to be some of the most valuable coins and often sell for more than thousands of times their face value as bids cross £300 or more.
If you ever spot a coin that does not look like your average everyday coins, then check listings on auction sites to see how much you could get.
But there are a lot of fakes available online.
So, check the authenticity of the coins before you spend a good amount on them.
Reference: https://www.thesun.co.uk/money/17667930/sir-isaac-newton-50p-coin-worth/
You May Like Also: